What Young Entrepreneurs Should Know About Crowdfunding For Business In India
By: Rukmini Chopra
Published On: June 27, 2018
We explore the rise in crowdfunding for business in India and how you can use it effectively to grow your venture.
If you are an aspiring entrepreneur, there are chances that you must have considered either of these options to fund your business: borrowing money from your friends and relatives, obtaining a loan from the bank, investing your own money and approaching investors, etc.
But consider these options: What if your friends and relatives have no more money to give your for your business? What if the bank is not interested to give you a loan? What if you don't have enough money of your own to invest? And what if you can't find investors who are willing to back your idea?
Crowdfunding for business is always an effective option.
Crowdfunding for business: Your Shark Tank Opportunity
Finding investment for your business with crowdfunding may have germinated in the west, especially in the USA and UK. However, the model has been adopted across the world, including India. In the west, platforms like Kickstarter, Indiegogo,Crowdcube and GoFundme have launched multiple businesses.
This report by Independent states that the business market in the UK has been transformed by crowdfunding. Crowdfunding site Crowdcube, raised over £230m for more than 500 businesses.
But, its infusion in India has been rather slow.
Infusionsoft points out that according to a report in the Alternative Board Tab Small Business Survey in March 2016, though less than 1% of small businesses had used crowdfunding as an option to fund their ventures, nearly four times the number of these groups stated that they would use crowdfunding to add additional capital to their projects.
Crowdfunding platforms raise big bucks
Kickstarter claims that it has funded 146,092 projects so far. Indiegogo on the other hand has an impressive record of having raised more than a billion on businesses on its platforms.
Entrepreneurs turn to crowdfunding for consumer feedback
Forbes reports that a professor surveyed 262 Kickstarter entrepreneurs and discovered that 63% of them opted for crowdfunding to build on ideas so that they could serve their consumers better.
They claimed that they didn't receive such feedback through conventional methods such as obtaining loans from banks, borrowing money from friends and relatives etc.
The rise of startups In India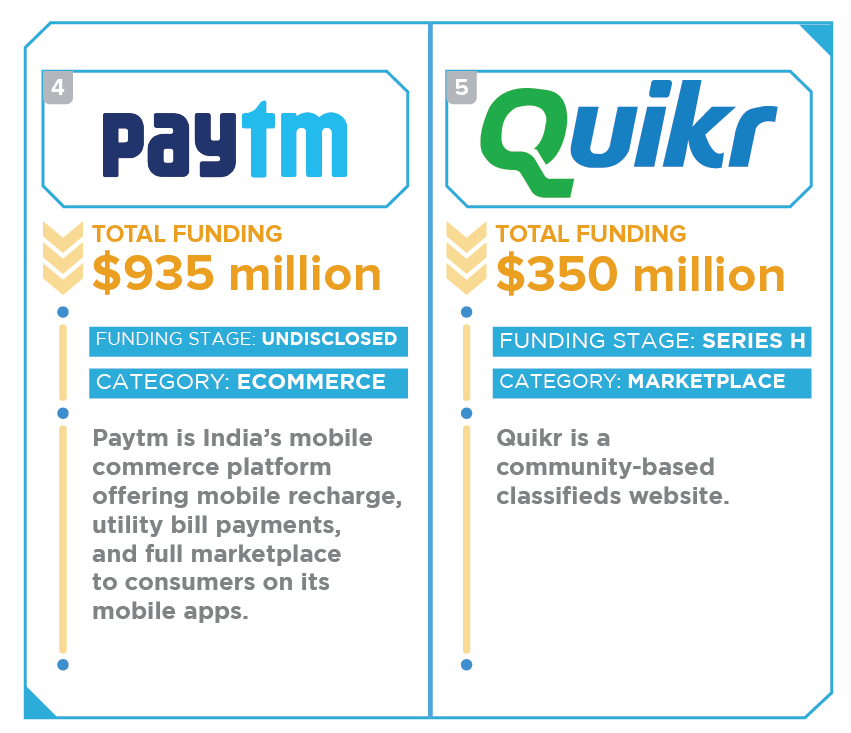 Image credit: Tech in Asia
Crowdfunding on the whole, is a growing practice in India. It is primarily being used for medical, creative and social causes. However, crowdfunding is slowly starting to find a place in the entrepreneurship market. Startups in India are on the rise and many of them are starting their ventures with help through crowdfunding.
According to a report by Nasscom, there currently are 4200 startups in India. And over 600 of startups were funded in 2016.
As a result, there is a growing need for business and equity crowdfunding in India. However, the two have not been legally recognized by the SEBI (Securities and Exchange Board in India) and prohibit equity crowdfunding through independent platforms under various acts.
Going the non-crowdfunding way: Letsventure saves the day
Though many businesses and startups may not be able to opt for equity and business crowdfunding in a formally recognized space, there are platforms that are ensuring their growth in other way.
For example: LetsVenture, is an Indian website that has significant visibility and is ensuring the growth of businesses in India by garnering investors. This platform allows for startups as well as small businesses to find investors for their ventures.
Till date, LetsVenture has been instrumental in getting fundings for businesses such as Aisle ( a dating app), Inov8 (an online shopping portal) etc.
Crowdfunding models to suit your business - Pick wisely
These are the basic models that you choose from to raise money for your business plan
Rewards based crowdfunding: Allowing donors to enjoy your products and services
In this form of business crowdfunding, you can allow your donors and investors to enjoy some of the products and services your company has to offer. Let's face it, giving your backers a reward for their generosity will definitely make them your loyal pals and gain their trust, for the next time you need them.
Also, this is a great way to test your product. You will be able to judge its popularity based on the feedback that you receive from your donors. You will be able to get an idea on what changes you can incorporate, if needed, before launching your product in the market.
Equity based crowdfunding: Allowing investors a stake in your business
In this form of crowdfunding, you let your investors have a share in the profits that your business will make. Hence before taking up this model for business crowdfunding, make sure you know all the rules and regulations properly, since you will be involving a third party in your business.
Lending based crowdfunding: A good way to secure a loan
If you are looking to secure a loan at lower interest rates, then this is a great model to adopt. Here, investors hold a share in your business and expect a fixed return, which is different from equity-based crowdfunding, where investors take a share of your business with the hope that their value will increase over time.
Reward-based vs equity based: What you should pick
Reward based is the way to go for creative businesses
It makes sense to opt for reward-based crowdfunding when you are involved in startups or small businesses such as owning a boutique/clothing store, designing T-shirts, jewelry, shoes etc. or have come up with your own line of products, that you are waiting to launch in the market.
This type of crowdfunding is primarily aimed at startups, especially if they are involved in creative fields. Startups that have complex and technical products and services may opt for other options of crowdfunding for a better funding.
Startups with complex products and services should opt for equity crowdfunding
While creative startups may get donations from family members and friends, it is slightly difficult for startups with complex products and services to get that kind of backing. For example: Instacart, which is an American company that delivers food from grocery stores at your doorstep, started off its journey with the equity crowdfunding model.
Hence startups such as Swiggy, Flipkart, etc. that have a more complex working model and aim to reach a wider audience, should opt for equity crowdfunding.
Be careful when opting for equity-based and lending based model
Though these models are effective, you need to be careful when opting for them because
1: Your investors will have complete visibility of your business plan. Hence you will have to be comfortable in allowing complete transparency of your business model.
2: While you may be excited about your business venture and would tell-all to your investors, make sure you don't give away any sensitive details or documents related to your business as it may just cost you down the line.
Finding backers for your business: Consider the target audience and the reward
Image credit: Get2Growth
Target audience: Tackle people related to your field
When you are presenting your business to the probable donors and investors, make sure who your target audience is. For example: If you are a non-profit looking to raise funds for a social cause such as education for the underprivileged, it is a good idea to target schools and universities, other NGOs working towards a similar cause, your previous donors, etc. to get donations.
If you are startup or a small business, make sure you look for people that are involved in the same business as yours. For example: If you are looking to start a food chain, tackle investors that are involved in a field related to yours.
Rewards: Give backers a reason to help you
Catherine Clifford wrote for the Entrepreneur, writing, "In exchange for their money, you'll need to offer investors a reward, whether it's a sample, the ability to vote on how a product is designed, or an opportunity to get early access to a product or service before it hits the regular markets. The better the perk, the better the pitch."
Types of businesses that can get backing with crowdfunding: Unique projects go a long way
Unique tech-related ventures can grab a donor's immediate attention
People are always looking to donate to unique products and services. For example: Parth Sabnis raised more than a lakh on our platform for his venture to launch a line of watches, inspired by the great Maratha Warrior Chhatrapati Shivaji.
Parth built a watch, that was styled according to the attire that Shivaji sported during wars.
The dial of the watch consisted of the Raj Mudra or the Royal Seal, and the straps were designed according to the style of armours sported by warriors.
While crowdfunding is finding its space in the medical as well as social and creative sector, it is yet to find a solid ground in the entrepreneurial arena. However with the growing scene of startups and small businesses in India, business crowdfunding is likely to become a popular practice.
If you have any comments or feedback on this article, write to us an [email protected].
We suggest you also read:
Crowdfunding regulations in India: All you need to know