7 Easy Steps To Prepare Yourself For A Medical Emergency in India
By: Shreevidhya Ravi
Published On: July 12, 2018
Life can be a testament to the popular phrase, "expect the unexpected." While emergencies have the defined nature of being contingent, readiness and preparation to deal with the same can really shape the way accidents pan out.
Sometime things happen so quickly that one can't expect to have time to even process the happening(s). During the time of accidents, it is common to presume that everything stops and that the pause button can just become perpetual. However, it is important to understand that that might not be the case. Life moves quickly, which is why it is always very important to stay prepared for a medical emergency. Staying informed and knowing what to do during medical emergencies can really help one disassociate the actual cause of emergency from anxiety, worry and/or fear to a great extent.
So how can one possibly stay prepared for a medical emergency, you ask? This article will tell you how to do just that.
1: A First Aid Box is never a waste.
"Prevention is better than cure", I'm sure this is something all of us have heard at least once in our life. It is very important to have a first aid box in your premises- be it your house or the organization you work in. It helps to keep the first aid box in a place that's commonly accessible by everyone in the house and/or organization. While considering the accessibility, think about the height and safety of the place and the material in which the components of the first aid box is stored. A first aid box typically consists of plasters in various sizes, tweezers, disposable gloves, antiseptic liquid, wads of cotton, thermometer, sticky tape, distilled water, eye wash and eye bath, alcohol-free cleansing wipes etc. It also helps to label the box with the sign for universal first aid.
2: Be well informed about emergency medical services in India- medical professionals and hospitals are public information.
It can prove extremely helpful to have a list of medical professionals and hospitals including independent practitioners and their clinic information. Websites like Practo have an entire database of doctors than one can look up, narrowing down even to types of specialities and localities in different cities.
Additionally, it also helps to keep a physical list of 4-5 hospitals and clinics nearby, complete with their phone numbers and working timings. It helps in reducing the time it takes to look for these and narrow down a hospital/clinic based on proximity, working timings and the kinds of specialists available.
3: Emergency Training and CPR Course (s) are universally helpful.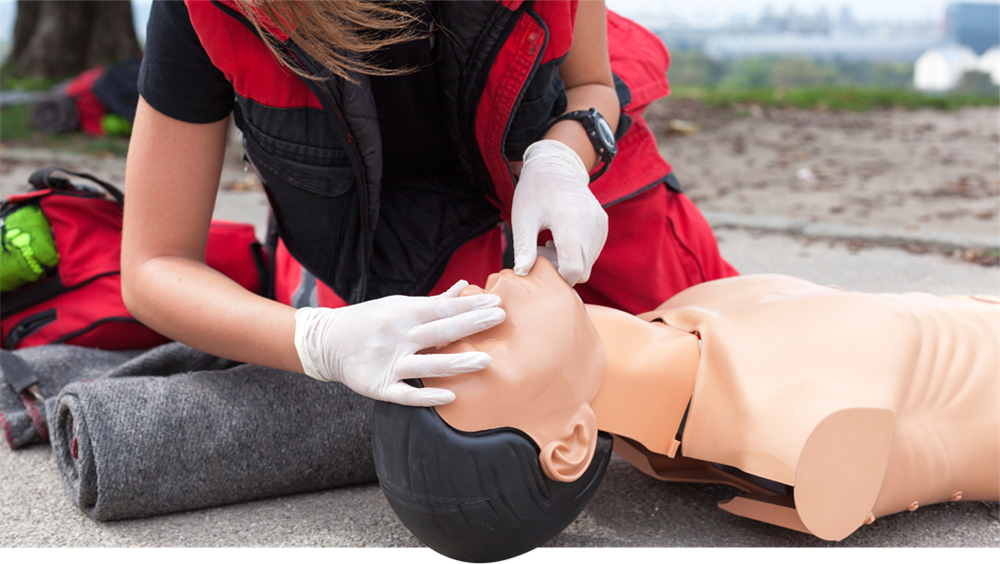 None of us know when a medical emergency might occur and knowing CPR can prove to be immensely helpful when it comes to dealing with an emergency. This is good information for everyone to be aware of, whether you're in a family or a work setting. Medical professionals are capable of diagnosing and treating an emergency but one cannot ignore the fact that knowing what to do when an emergency strikes can greatly help in minimizing the impact of the accident. It's often possible to avoid the worst risks of an emergency if one is equipped to respond quickly enough and intervene with the necessary first steps.
4: Medical History Kit is your best friend!
Both professional and personal spaces can make it a policy to collect information about medical history concerning an employee and a family member, respectively. It always helps if one can put together an information of what medicines has one taken, their medical history and diagnosis in a folder. Submitting this folder to their organization can prove to be extremely valuable in times of emergencies. As for a family setting, it is always important to know crucial information about one's medical history. If a medical emergency strikes, one can always look up their medical history and that can contain important information which can enable the diagnosis and the pace of treatment to become much quicker.
5: Symptom Index helps you keep a close watch.
There are medical websites that provide a host of information about symptoms that are associated with common emergencies like heart attack, stroke etc. It helps to have a printed version of these in the premise of a house or a workplace. Even colleagues who observe someone going through symptoms that correspond to a particular health condition can alert the workplace if a medical emergency strikes. It also promotes healthy awareness surrounding measures that can be taken to deal with medical emergencies.
6: Have an Emergency Database
Put together a list of people who can be contacted during emergencies. This list can contain details about your friends, family or even colleagues. Having a basic list with their contact details can really be immensely helpful in adding more medical context that is concerned with the patient. People don't always remember the medications they take or the instructions that their physician tells them. Often they share this crucial information with people they are close to. If and when a medical emergency happens, contacting these people can give us more insight into the patient's medical history. Every individual should make an emergency database. A copy of the emergency database should be kept in their house and another copy should preferably be submitted to their workplace.
7: Common Knowledge can save lives!
Awareness regarding symptoms related to common medical emergencies can never go to waste. Some medical conditions occur more commonly than others and in unfortunate cases, they can also prove to be more deadly than most other medical emergencies. In such a situation, lives can be saved if someone just knew the symptoms that is affiliated to that particular medical emergency. Here is a list of three common medical emergencies and the first steps that can be taken before the required medical assistance is given.
Heart Attack: If the person is not allergic to aspirin, have them chew and swallow a baby aspirin. Chewing the tablet helps it get into the bloodstream faster, as opposed to swallowing. Aspirin also makes the blood thinner.If the person stops breathing, CPR is a great thing to perform in a timely manner before the medical personnel arrive.
Breathing Difficulties: It is very important to ensure that they are in an open space, where they can have plenty of access to space.

Check the person's airway

and pulse to determine if CPR is a good option. Loosen any tight clothing and see if they are under any prescribed medication, in which help them ingest it.



Seizure: Make sure to look around and move dangerous objects away from them due to the fact that people shake uncontrollably during seizures. It is important to take note of the time when the seizure started. Cushion their head with a soft object nearby and observe their breathing.
None of these steps are time consuming but they can prove to be extremely helpful in the time of a medical emergency. With enough preparation, any medical emergency can be handled with the most efficiency which will be instrumental in ensuring that the situation gets managed in the best of manner(s).
We suggest you also read:
5 Lesser-Known Innovations That Are Improving Healthcare For The Common Man
National Doctors' Day: 5 Doctors Talk About Saving Lives, Seeing Death And Solving Challenging Cases
We would love to hear you suggestions and comments, drop an email at [email protected]