International Day for Older Persons in India: 7 best old age homes in India
By: Rukmini Chopra
Published On: October 01, 2018
October 1st was celebrated as International Day for Older Persons in India. Here's celebrating this day for the elderly by looking at 7 best old age homes in India. Read on!
It can't be said enough- old age is difficult to deal with. Where one's physical abilities start to see shortcomings, emotional state too can become frail due to loneliness.
Despite this, the elderly in India continue to be neglected. According to this report, there are around 100 million people in India and the number is going to triple by 2050.
Nearly 65% of the elderly population in India claimed to have felt neglected and abused, according to a study by Agewell Foundation; the numbers are higher in urban areas as compared to rural areas.
Around 54.1 percent respondents, said that they face abuse in their families and society. Nearly 89.7% respondents out of 2705 said that many old people face abuse in old age homes due to financial reasons. A total of 96.4 said that they have been mistreated due to emotional factors.
Photo Credits: Wordpress
Various reasons have contributed to India's older population feeling ostracized and neglected by their own loved ones. From children simply being careless and ungrateful, to them exploiting their parents for money to them moving on with their lives and leaving their parents behind, many factors lead up to this sorry state of affairs.
However, there are many children who move abroad due to their jobs and wish to take in their parents but are not at a liberty to. The constant to and fro between countries also becomes difficult.
Hence, many children opt for keeping their parents in old age homes. While this is the more understandable reason, the sad truth is that more than half of India's elderly population is forced to live in old age homes due to neglect and abuse.
Photo Credits: Mashable
The old population in India may not have the support of their children, but there are several old age homes in the country that make sure they get the best possible care.
If you have come across old people that need help or are settled abroad and are looking to make sure your parents are well looked after, here are the 10 best old age homes in India that you can consider.
1: Navachaitanya old age homes, Bangalore
This old age home was established in 1989, and is one of the top ones in India. Situated in the Banaswadi district in Bangalore, the old age home is open to both men and women for short term as well as long-term stay.
Some of the facilities include: complete boarding and lodging,nursing center, indoor games and television, organized medical check ups, etc.
Per month charge to stay is Rs. 10,000 and the deposit is Rs. 12,000. You can check out further details here.
2: Guru Vishram Vridh Ashram, New Delhi
Situated in Gautampuri Phase- 1, New Delhi, this old age home has been active since 14 years and provides free shelter, food and clothing to the poor, orphaned and abandoned old people in India. They have saved around 4000 elders since the past 14 years.
Some of their free services include: medical care unit, AC accommodation, fully equipped physiotherapy center and pathology lab, etc. You can check out further details here.
3: Anandashram, Kolkata
This ashram was established in 2006 and is of approximately 9000 sq ft. and includes a manicured garden. The facilities include: monthly medical checkups, television, air conditioned rooms, library, yoga classes and prayer space, carbs available for hire etc.
The deposit is of Rs. 2 lakhs, conditions applied. You can check out further details here.
4: Anand Dham, Jodhpur, Rajasthan
This old age home has free as well as paid services. It has around 2000 cottages with services including medical aid, computer labs, sports equipment, television, religious activities, open air theater, kitchen etc. You can check out further details here.
5: Helpage Elders Village, Chennai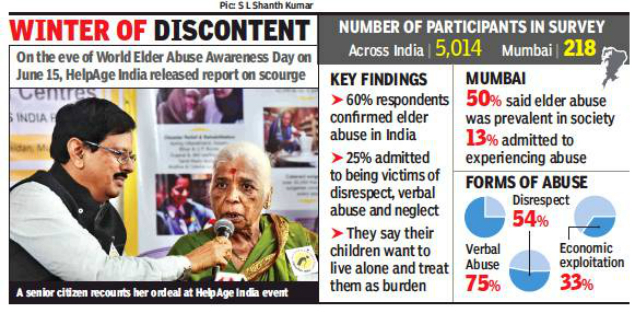 Started by NGO HelpAge India, this old age home mainly caters to Tsunami affected victims. Helpage elders has been active since 2008, and includes elderly members who have lost their family to Tsunamis or have been abandoned by their families.
Basic facilities include: Mobile medical care unit, resident doctor, community counselling, multipurpose training hall, cultural festivals, etc. You can check out further details here.
6: Maharshi Karve Stree Shikshan Samstha Old Age Homes, Pune
This old age home has been active since 1933 and caters to 58 males and four couples at nominal costs. The facilities include 24x7 medical care, recreational activities, rehabilitation and personal care etc. You can check out further details here.
7: Balaji Healthcare, Navi Mumbai
This is a hospital in Navi Mumbai that also has an old age home, taking care of 43 seniors. This caretaking unit has senior citizens coming in from all over the world and Balaji Healthcare specially caters to those suffering from Alzheimer's, Parkinson's disease, dementia paralysis etc.
The services include recreational activities, medical care, personal care, etc. You can check out further details here.
If you have any suggestions or feedback related to this article, reach out to us at [email protected]