A Complete Guide To Asking For Donations With Emails
By: Malini Bhattacharya
Published On: May 09, 2018
We provide tips on how to write the best crowdfunding emails for quick donations. Have a look!
With crowdfunding, and any other kind of fundraising, the first thing to remember is that good donor communication is key to meeting your fundraising goals. Experienced campaign managers will tell you that once your campaign is live, you will need to populate it with your story, photos, a video, set a goal amount, and begin social media sharing.
For the average campaigner in India, this means heavy duty sharing on WhatsApp and Facebook, with the campaigner tapping into their primary network of real life friends and relatives, and the acquaintances of these individuals.
Donations come on the basis of credibility and trust, until some fundraisers go viral and strangers begin to make contributions.
Many crowdfunding campaigners also rely on the good, old-fashioned email to spread word their fundraiser and ask for donations from friends and strangers alike.
Studies conducted by nonprofits and other fundraising organizations reveal converging findings that only encourage the use of the email for fundraising purposes, with a growing user base for email - we think it is the smartest content distribution mechanism ever - which is set to hit 2.9 billion users by 2019.
As a part of your fundraising initiative, when you send emails, remember to always select a mobile responsive design, because between 20% and 75% of all email opens happen on a mobile device.
47% of all the potential donors you will write to will open the email based on the subject line, so make sure you do this right (the word "Donate" is a subject line mistake, it puts contributors off).
Add visuals, even emojis and gifs, for better responsiveness and to trigger the participatory instinct in your donors. If you include social media sharing buttons, click-through rates increase by over 150%.
Done right, the email or the direct mail can be your best friend through a fundraising initiative. But first, let's break down the email, get into what it's made up of.
The anatomy of the fundraising direct mail
The subject line
Hands down, this is the most important part of the emails you will send out to prospective donors. Only about 25% of all emails (including fundraising ones) that nonprofits send to their donor bases are opened.
Your best chance at entering into this group is to make sure that your subject line is engaging and catchy (try asking a question, or stating an interesting statistic). Numbers ("3 things you can do..") or lines that convey a sense of urgency ("Last chance to save…") do better than more generic subject lines.
Here's a look at what a good and a not so good subject line might look like
Good
'The art of Indigo block printing from Orissa is slowly dying out'
We think this is good because there the sender has established a context (artists are struggling to practice their art under possibly difficult conditions. What are these conditions? Therein intrigue develops.)
Not so good
'Nobody buys Indigo block print handicrafts so the art is vanishing'
Everything has been told. Why would a reader go through the body text at all?
This subject line does not need an email at all, because the sender has spilled all the beans already.
While asking for a donation in the subject line is not a taboo, we recommend doing it more subtly, and not going into the details of the illness/cause until at least the header.
The header
Here is where you jumpstart your story with a mix of image and text. You will have to write a headline which tells your story in a nutshell without giving the crux away, stating your need without going into too much detail.
With the headline you create intrigue and interest. The best crowdfunding emails have a good headline that can make your EDM recipient want to read on and find out more about the people in the story.
We think it's a good idea to try at least two different versions of headlines and run an A/B test to identify which donors are responding better to.
When you are doing this, avoid the use of stock images, and curate ones relevant to your campaign. Try playing around with user friendly graphic design tools like Canva and Photoshop to create a header that resonates in look and feel with the story you are communicating through the email.
Good
'With your help, Shreya will be able to dance again'
When you have considered that a headline will determine if the donor will read through your whole email, you will agree that it cannot give away the ending. It will have to have enough material in it to draw the reader in, the suggestion of a powerful narrative coming, which is why this one works.
Not so good
Once again, giving it all away is never best practice.
The body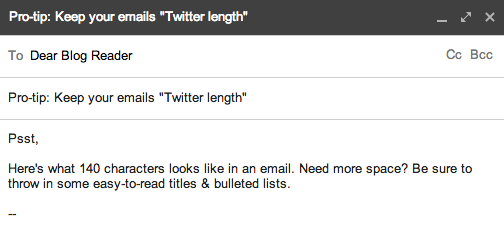 Keep it short, keep it simple. We tell our campaigners to keep their emails to a maximum of three medium paragraphs, stating the problem, offering supporting detail, and asking for a donation and social media sharing support in the final paragraph.
Avoid using difficult words and idioms, and make sure you address the recipient by name. It is absolutely non-negotiable to have a "Donate" button and social media sharing buttons embedded in your email to enable the recipient to proactively respond to the material they have just read.
Always include your contact information in case the donor wants to talk to you personally and know more before making a contribution.
We have for you a wonderful sample email with perfectly written body copy, see this excerpt (read full email here)
The simplicity, ease of reading, direct addressing of the reader, and the tone of familiarity and involvement do stellar work in engaging and involving the donor with the cause at hand.
This same approach works well with medical crowdfunding campaign donor emails, where the idea is to push for campaign success through values of inclusiveness and democratic participation, where each donor comes to feel that they have an intangible stake in the success of the campaign.
Not so good body text is the subjective opposite of this, and may encompass so many variants that we will refrain from including samples.
Tips and tricks to send a good donor email
You will send multiple emails to the same donors throughout the duration of your campaign, so settle on a sending frequency. Vary the images you use, and pack punch into your subject line for the different milestones of the campaign (the quarter of the target mark, the halfway through stage, the nearly there phase, etc.)
Pick sending times carefully.
One is less likely to check their email once they are out of office or on weekends, so ensure you send it on weekdays, perhaps during lunch.
Tell one story, and tell it briefly, like we said before. You don't want your donor navigating too many narratives and having a problem of decision making.Make sure your email has only one call to action, and this should be to donate.
Too many choices may confuse the donor who may either choose to bypass your content entirely, or to postpone decision making indefinitely, in a phenomenon that has come to be known as änalysis paralysis.
Do not be shy of asking for help more than once in the same email. It is perfectly acceptable to ask for aid in the subject line, then again in the header text, in the body of the email, and finally in the call to action button.
Your task is to impress your need upon the donor's mind, and multiple uses of words like "help", "need", ässist", "give" etc. brings your donor to a psycho-emotional place of preparedness to make a gift.
Before you hit send, take a moment to proofread. When that is done, take a moment to breathe, gather your faith about you, and send the email. You have asked for help in the best ways possible, and it shall come to your help and deliver you in the darkest hour.
Have you used emails to fundraiser before? Share with us your ideas or experiences! Reach out to us at [email protected]
We suggest you also read:
How To Craft A Successful Pitch For When You're Crowdfunding In India
A Step-By-Step Guide To Writing A Powerful Donation Appeal For Your Medical Fundraiser