Comedians lend their voice to social change
By: Diamond Diwan
Published On: August 09, 2018
Politics and social issues in India have overtaken content material for stand up comedians.
Politics. You roll your eyes as you imagine that one friend intensely ranting about the big dreary government's inability to please its even bigger drearier population. Nothing and absolutely nothing will cheer up this friend who still sometimes calls and asks you why she isn't invited to friday nights like before. (They refuse to take the hint!)
But in this glorious age of YouTube, politics doesn't have to be this one gaping hole sucking the life out of its daily content consumers. The youth is more interested in knowing what's happening to the country and are more willing to contribute in some way. The stereotypical shows with the matriarch planning her twins' marriages to the same guy just doesn't do it for them anymore.
There's an apt joke on this:
English sitcoms: Something is always happening.
Hindi serials: Same thing is always happening.
We started off with the comedic television show called 'The Great Indian Laughter Challenge', followed by the more recent 'Comicstan'. When stand up comedians address socio-political issues, they youth feels that it is their personal concerns that are being voiced. Things like moving out of your parents home and living on your own in this economy, is a struggle that most youths today can understand. Workplace bullying, Tinder dates that turn out to be safety risks, slut-shaming are all issues that do not get enough healthy coverage by media houses.
Also, the reliability of media houses, as the source of truth,has been thoroughly questioned in the past few years with blatantly biased reporting and the recent Cobra Post scandal. This is where comedy comes into the picture. It makes this socio-political content more accessible and palatable than news channels.. That friend we were talking about, right at the beginning? She finally feels like she is being heard. Comedy transcends religion, caste, sexuality. Comedy doesn't preach. From 16-year olds who are told what to do by their parents to 36-year-olds who are dominated by their in-laws - we all hate being preached to. If a comedian is talking about rural poverty in Jharkand, they do not say things like why are we not helping them, rather, they address the hows and whys of our privilege shutting us off from knowing and caring about it.
But this is not without its consequences. AIB was subjected to major censorship after its 'Roast Video'. The really bothersome thing here was that the parties being roasted were happily laughing on themselves while third party right wing outfits took offence, claiming the comedy to be crass and jarring against Indian culture. Consequently, AIB had to cancel all its scheduled live shows for the following month.
So the stakes are high as comedians find their voice and fight to be heard. AIB is said to earn upto 4 lakhs per video and the fame is a much cherished bonus.
Listed below are comedians who use their art to spread awareness and leave you laughing while doing so.
Kunal Kamra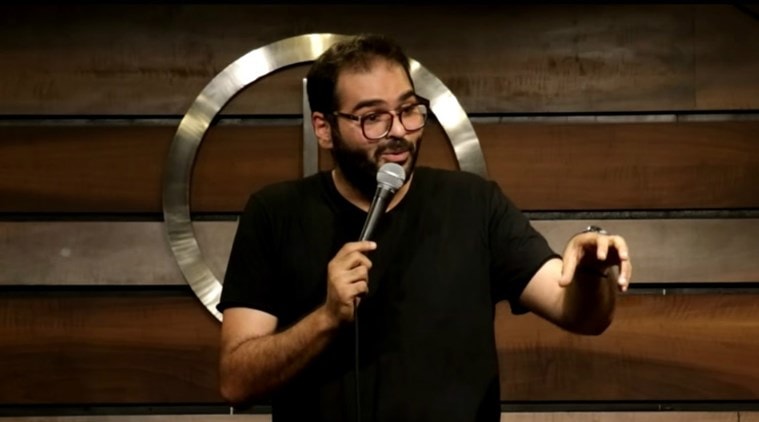 Picture being at home with a few friends over. It's a comfortable night and the discussion somehow shifts to politics. The beef ban, demonetisation and patriotic trolls, you cover it all. It is this vent session, that Kamra brings to the table. His fun chat show called 'Shut up ya Kunal' covers various topics and asks questions to the authorities concerned.
For example, in Episode 1 itself he calls the BJP youth wing vice-president and asks him his opinions on Section 377, the minorities and even the beef ban. Episode 2 sees Congress' Priyanka Chaturvedi and Kamra manages refer to the Panama papers and alluding to all the "supposed scams" Congress has been linked to.
What is the big deal in making fun of people in power?'…But there are consequences. A corporation will call you 2 days before your show and say "Sorry, We'll have to cancel this one because our CEO is a big fan of the PM and we don't want any political jokes".
His gutsy comedy certainly has consequences. He has been termed as "anti-national' and has received countless death threats by twitter trolls. Recently, he was even asked to move out of his rented home by his landlady.
Aditi Mittal
"You have to be the conduit, the vehicle to deliver a message; you cannot and should not become the message yourself. Or the story."
Mittal believes that the purpose of comedy is to hold a mirror to society. Last October, she made a skit on bra shopping, a video that became immensely popular. It isn't until the 6th minute of the video that the audience realises that it's aimed at raising breast cancer awareness. Likewise, her sanitary napkin YouTube video has a strong underlying social message as well. It highlights the obsessive need of society to treat periods as an impure phenomena as an impure act that needs to be kept hush or the world will positively combust.
Her social messages are never on the nose, and she does her best to let comedy deliver her purpose. Her USP is definitely her hardcore feminism and her unapologetic stance for what she believes in.
She recently got her own show on Netflix, that you can stream here.
Vir Das
"A regular dose of comedy will be helpful for the health of the country."
Known for his poised style, and to the point sense of humour, Vir Das has a large following, comprising of Indians living abroad. So his topics cover a wide range of issues centring around global politics. He has also covered nepotism, racism and homophobia. Remember the "You black! Blackie!" joke?
He is an active political force on twitter, where he shares his views on the Indian government and often has an army of trolls following sniffing his trail.
Das was recently signed by ABC for an hour long weekly dramedy series and also has his own show on YouTube. His socio-political correctness mixed with his subtle comedy gives him a wider appeal than some of the other comedians on YouTube.
You can subscribe to his channel here.
East India Company:
Perhaps their most bold move, was making a song on our Prime Minister Narendra Modi and rhyming it with some very interesting content. The video got viral and is called The Modi Song.
Sorabh Pant left EIC in order to pursue stand up comedy. His comedy routine titled A Democracy of Jokes puts forth a balanced stance when it comes to criticizing politics. No one politician is villainized, he picks targets from all sides whether it's the Aam Aadmi Party or the BJP.
His video description is direct, just like his humour. It says, "Still offended? The joke is on you."
Other impactful comedians include,
Daniel Fernandes
He is known to cover the more sensitive, darker spectrum of social issues surrounding India such as marital rape and student suicides. His style of humour is not the clutch-your-stomach kind of laughter but soft understanding chuckles where the content stays with you and makes you contemplate.
Varun Thakur: He backs the basic necessities that India with its overflowing population should definitely adopt: sex ed, condoms and contraceptives.
Abijit Ganguly
We are all aware about the National Anthem fiasco. Our guy here stepped into the heated debate and spoke his mind about the ongoing social health of our country.
If you liked this, you might be interested in checking these out too!