#WorldCancerDay: Inspiring Celebrity Cancer Survivors
By: Ashwath Seshadri
Published On: February 04, 2019
There isn't an occasion more suitable than the 4th February, World Cancer Day. It is a revered event that is celebrated globally in order to unite the world and spread awareness about the disease that has taken the lives of lakhs of people across the globe.
The Union for International Cancer Control pressed this day to press governments and individuals across the world to take action against the disease. Every year, the government and private institutions work with Television, radio, online and newspaper advertisements, and articles that focus on the fight against cancer. They also conduct various events and activities for the general public.
Some countries use World Cancer Day to spread awareness through campaigns on various cancer issues, such as breast cancer, lung cancer, skin cancer, and also cancer in children.There is great emphasis on focus given on awareness and risk reduction while dealing with cancer. It is not easy for people who have or are going through cancer. The real purpose of cancer still remains to attack it from all ends as long as there is no cure found for it.
So, this World Cancer Day, we present to you the stories of those reel life heroes who in their real life battled cancer and came out victorious. Their snippets are actual episodes of how devastating the fatality can be and hopes to keep you feeling positive for yourself or a loved one battling cancer.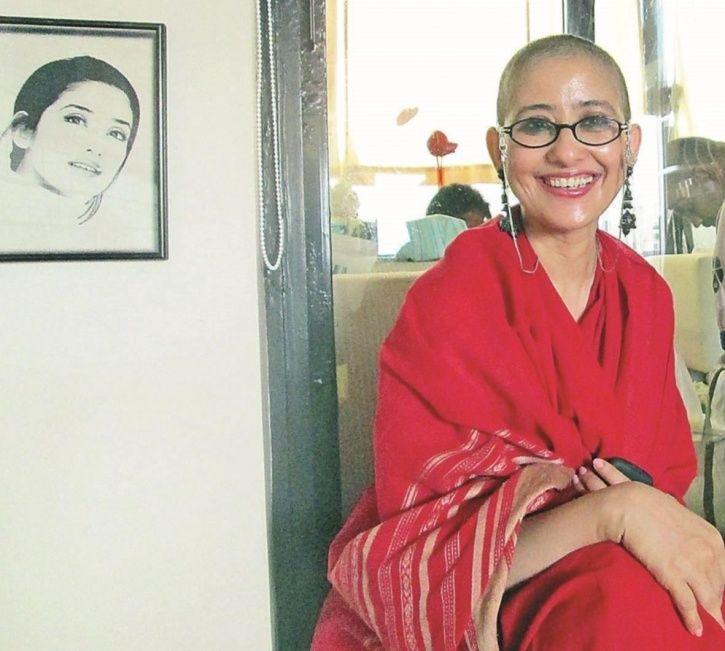 1. Manisha Koirala: Ovarian Cancer
In November, 2012 a devastating news left the actress in total disbelief. It was only a few weeks back when her aunt was battling the last stage of Breast Cancer and she stayed by her side till the last moment.
She mentioned in an interview that fighting the cancer in India was tough for her. Hence, she got her treatment done in New York. She said that people in India believed a little too much in the notion "Cancer means Death."
Koirala also mentioned this is the reason patients avoid talking about what they are going through because people are waiting to scare you. Nonetheless, it did not stop the celebrity do her bit and come back, "If I had to die then, so be it. However, at least I would have done my level best." Over the six months that she spent at the hospital, first couple of months was just panic and the fear that she would die.
However, as she overcame her cancer, she mentioned it gave her a new perspective to life and that would advise everybody to not be victimized by the ailment. Today, Manisha supports wide NGOs and people who are going through the ailment.
2. Yuvraj Singh: Stage 1 Cancer
It was during the 2011 World Cup, that the player of the tournament would wake up in the middle of the night only to experience breathlessness and extreme bouts of cough. When a regular scan revealed a tumor, he ignored it for that meant breaking focus from the tournament.
He continued playing matches but his condition kept worsening Having to take further tests post the World Cup revealed that the tumour was a germ cell cancer called a mediastinal seminoma. It was located between his heart and his lungs and about 14 centimetres in size.
After a six month ordeal in the USA where he fought the disease, Yuvraj Singh recovered in postoperative care with Ayurveda treatment and rehabilitation. After having faced the worst battle of his life, he addressed his fans quoting "Cancer doesn't have to mean death, do not fear it and fight it with positivity and constant belief in yourself."
Not only this, Yuvraj showed the world what his passion meant to him, as he went through the toughest workouts and got himself to the pavillion again. Today, his YouWeCan proactively cares for the thousands of people who are suffering from this ailment.
3. Mumtaz: Breast Cancer
'"I don't give up easy. Even death would have to fight me." Said the veteran beauty who was diagnosed with breast cancer in 2002, when she was 54-years-old. Mumtaz was diagnosed with breast cancer and had to undergo 6 chemotherapies and 35 radiation treatments.
After a glamorous career in the Bollywood industry, and one of the most gracious retirement noted by the nation, It was Mumtaz who had to battle cancer. Battling it with her confidence, the actress got back to her pre-cancer figure by following swimming, gymming and switching to a strict diet. Her story even today inspires women who fall fate to breast cancer in the nation.
4. Sonali Bendre: Breast Cancer
In a recent Instagram post, Sonali expressed how beautiful she felt to get back to work, face the camera and portray the range of emotions she loves to express. However, it was only few months back when life challenged her resilience as a High Grade cancer was detected post a checkup.
Sonali didn't let the disease break her from breaking her speech. She took on to social media and braved to share the journey with her fans. She left no stone unturned when she wrote about the taboo in India, where women don't feel bold enough to speak about their ailment or situation. As she has made a full recovery from the cancer that relapsed twice, Sonali finds a new meaning to life and enjoys the simple rewards of life with a fresh perspective.
5. Anurag Basu: Blood Cancer
This man faced cancer eye to eye and did not let it take control of his life. It was too late for Anurag Basu as the doctors told this new age director that he had only two months to live. Lying on the hospital bed, the filmmaker did not let this verdict shake him. When the news of cancer was revealed to him, he stated "It's like cold, cough and fever. I know I will be able to fight it..nothing to worry."
With the saying all hail and hearty, the acclaimed filmmaker proved that nothing can come between when you set your goal right and take it seriously. He underwent chemo sessions and radiations and battled the ailment for over six months, post which he returned as a happy man to his wife and family. Like his movies, Anurag Basu fought cancer like a champ.
We suggest you also read:
5 Common Lifestyle Diseases In India And Treatment Options For Them
"Do I Have Cancer?" And Other Commonly Googled Cancer Questions