World Breastfeeding Week 2018: The rise of milk banks in India and why they are important
By: Diamond Diwan
Published On: August 03, 2018
Every year, August 1 to 7 is celebrated as the World Breastfeeding Week. Informing people about the importance of breastfeeding is the WBW's main purpose. This year's breastfeeding week 2018 theme is Breastfeeding: Foundation for Life.
Empowering women who are breastfeeding is a critical element of of breastfeeding week. One great example here would be Karina Gould, the first Canadian federal cabinet minister to give birth while holding office. In June of this year she breastfed her baby in the House of Commons. When the world cheered for her for making such a bold move, her response was simple, "No shame in breastfeeding! Baby's gotta eat & I had votes."
Aside from the fact that breastfeeding is an organic act that has existed since the beginning of time, it also has certain undeniable benefits that reinforce its importance.
How is it beneficial for the baby?
Breast milk has all the ideal nutrients required for the baby to grow. It's also much easier to digest than any infant formula mix. Breast milk contains antibodies that help babies fight bacteria and viruses. The risk of allergies and asthma in babies as well as sudden infant death syndrome risks are lowered.
Statistically speaking, even babies who are merely breastfed for 6 months are less prone to ear infections, diarrhoea and other respiratory afflictions. Furthermore, breastfeeding significantly affects baby's brain development in the long term.
Lastly, breastfed babies tend to gain the right amount of weight as they grow up which prevents cancer, diabetes and other illnesses.
How is it beneficial for the mother?
It's no secret that the close contact between mother and child strengthens their bond and gives the baby a sense of security.
Breastfeeding mothers lose 300-500 calories every day. Breastfeeding reduces the risk of breast cancer as well as ovarian cancer in mothers.
Furthermore, women who have breastfed for at least 12 months are at a lesser risk of developing high cholesterol, high blood pressure and cardiovascular diseases.
The list goes on.
Influencers like Chrissy Teigen have further popularized the normality of this natural act of a mother feeding her baby.
Breastfeeding in India: Lowest breastfeeding practices amongst South Asian countries
India ranks the lowest in breastfeeding practices among South Asian countries. According to UNICEF, only 25% of the newborns in India were breastfed within an hour of birth, and less than half of the children (46%) under six months of age are exclusively breastfed. This is partly due to lack of support from a woman's family and no quality maternity protection measures.
One other major factor here is the stigma attached to it. It takes one google search to be completely traumatized by the kind of discomfort and retaliation, a topic like this can bring.
Image credit: Times of India
One recent example of this is when Kerala based magazine, Grihalaxmi had a model with a baby at her chest. The controversy surrounding it was immense especially since the model herself is not a mother. Some supported the move while others wished they would've taken a breastfeeding mother on the cover instead of sensationalizing the issue.
So, what about mothers who can't breastfeed?
In the past, mothers who couldn't breastfeed due to illness or low milk production and since no formula was available them, they turned to wet nurses to provide babies what they needed. Eventually in the early 1900s, due to wet nursing becoming inconvenient and growing strides in refrigeration and pasteurization, milk banks were established.
What are milk banks?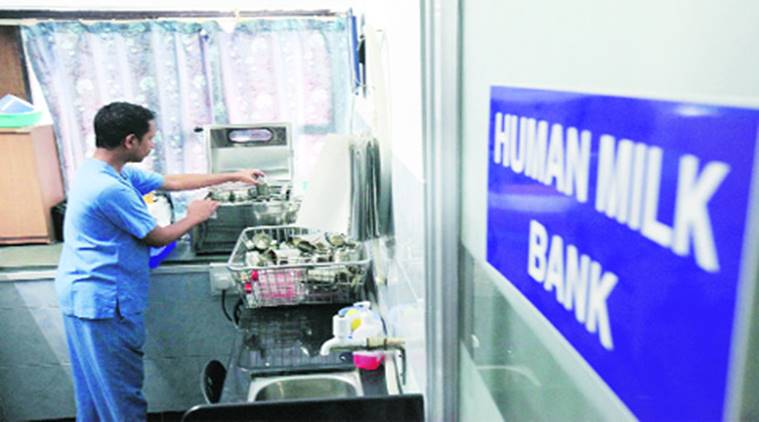 Image credit: Human Milk Banks in India
According to Wikipedia, 'A human milk bank or breast milk bank is a service which collects, screens, processes, and dispenses by prescription, human milk donated by nursing mothers who are not biologically related to the recipient infant.'
India's first milk bank in India was established in 1989 at Sion in Mumbai. The country has around 47 milk banks in all. Its success prompted several hospitals to follow suit.
27 years ago Sion hospital was losing its babies in the NICU by feeding them formula and supplements due to the high infection factor. That was when Dr. Armida Fernandez decided to do away with formula completely and established the first human breast milk bank in India. And sure enough, within a few months, the hospital saw a rise in the recovery rate of sick and newborn babies being fed breast milk.
What is the process of collecting milk?
Human milk is collected from lactating mothers on the third day after giving birth and only if they fulfill these safety criterias put forth by the hospital:
The donor's medical history is examined.

She is also physically examined and her milk samples are sent to labs for sampling. Only when all 3 of these things are problem-free is the donation accepted. Later, Electric pumps are used as they manage to extract high volumes of milk and are relatively painless. These pumps are sterilized thoroughly.

This pasteurised milk is tested to make sure it's free of any infection and then stored in containers in hospital-grade deep freeze.

This infection-free milk is then dispatched for preterm infants whenever needed.
Milk banks are essential in the following scenarios:
A case where the child has passed away leaving behind a mourning mother. The psychological comfort or providing food to a baby, even if it's not theirs is known to help.

A case where the mother has passed away and the child is in desperate need of mother's milk.

Mothers who can't produce milk.

And lastly, mothers who overproduce milk, which tends to get immensely painful physically. Doctors recommend stepping in the shower and emptying the excess milk down the drain.
But why choose to do that when you can share the health with someone in need.
Milk banks on the rise in India
The benefits of breastmilk, the rising awareness of the amount of impact these milk banks are making and the readiness of mothers to provide milk are three important reasons why milk banks in India are on the rise.
Rajasthan (13), Maharashtra (12) and Tamil Nadu (10) are major contributors in the milk bank industry, with Chennai following close behind.
How milk banks have benefitted Indians
Amaara, first pasteurized Breast Milk Foundation in NCR that focuses on providing milk to neonatal babies. Since its inception it has been able to expand to 30 hospitals. After New Delhi, Amaara has recently expanded the initiative by inaugurating its first full service branch in Bengaluru. Thousands of preterm babies have been saved by the foundation's initiative.
In Pune, the first such bank was set up in 2011 at the Deenanath Mangeshkar Hospital. Within the last 3 and a half years, the human milk bank has collected and dispensed 1,625 litres of human milk.
As they say, for there to be any kind of change in this world, there needs to be a change in YOU first. Wishing you all a very enlightening World Breastfeeding Week!
If you have any comments or feedback related to this article, reach out to us [email protected]