Open Heart Surgery Costs in India: All You Need To Know To Overcome Them
By: Jasmine Marfatia
Published On: July 10, 2018
Open heart surgery costs in India are high and crowdfunding can prove to be a life savior. Here's how...
You may have heard this phrase quite often, either as advice by your medical practitioner, or on television ads, mostly for cooking oils - "Live a heart-healthy lifestyle".
So what does it mean, and why should you be so concerned about it? It is because cardiovascular diseases (CVD) have risen by 34% in India, contributing to 209 deaths per one lakh people in the country.
Another statistic states that out of 30 million people with CVD in India, 14 million cases are from urban areas and 16 million from rural areas.
Image credit: SlideShare
The reason that this statistic is troubling is because it validates that heart diseases are distributed evenly, but treatment facilities are not. Open heart surgery costs in India can be crippling even for those with a hefty income, let alone people from weaker economic backgrounds and rural areas where medical facilities are abysmal.
As a crowdfunding platform, we too have seen a rise in the number of people that are seeking heart surgery-related fundraising solutions.
Potential heart diseases that could lead to the need for open heart surgery
Too many people suffer from heart related diseases such as high cholesterol and blood pressure, but think of them as small ailments that can easily be cured with some basic medications.
The reality is more severe than that. Most cardiac conditions are progressive in nature, effectively becoming a silent killer for a very large chunk of our population.
At the later stages of CVD, patients are often required to undergo expensive treatment procedures like angioplasties, coronary bypass surgery, or even heart transplants.
Needless to say that all open heart surgeries such as the ones we've mentioned, come with associated physical, emotional, and financial damage to the sufferer and his/her family. Bypass surgery cost in India and cost of heart transplant in India are high.
1) Coronary heart disease resulting from a buildup of plaque on the inside of the arteries, reducing blood flow to the heart.
2) Angina caused by atherosclerosis, that is the narrowing and / or blockage of the blood vessels that supply the heart.
3) Congenital heart disease is a broad term. Examples are holes in the heart, abnormal valves, and abnormal heart chambers.
4) Heart valve problems caused by variety of conditions such as - valves may get narrowed, may leak or not close properly.
5) Cardiomyopathy refers to diseases of the heart muscle. Which includes ischemic, loss of heart muscle; dilated, heart enlarged; hypertrophic, thickened heart muscle.
6) Heart failure is a chronic condition that happens when the heart's muscle becomes too damaged to adequately pump blood around your body.
7) High blood pressure or hypertension is a condition caused by excessive force of blood pushing against the walls of your blood vessels.
Cost of open heart surgery in India includes diagnosis, treatment, and postoperative care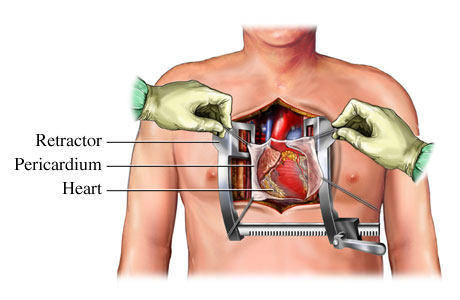 When referring to CVD, the diagnostic procedure would involve blood tests, x-rays, CT scans, MRIs, echocardiograms, stress tests, angiographies, and myocardial biopsy.
We must realize that even families who earn well have to turn to insurances to pay for treatment. How then, should people of lesser means, afford such expenses?
Keep in mind that financially weaker families often get rejected from loans and insurances.
Moving on to treatment methods, there is a lot that can be done. There are medications like beta-blockers, blood thinners, diuretics etc. For more serious cases, treatments would involve pacemakers, atherectomy, and angioplasty, among others. Further, in cases that are not manageable or treatable, the doctors may decide to do open heart surgery for coronary bypass, or worse - heart transplant.
The cost of heart transplant in India can be anywhere between 10 to 20 lakhs, depending on factors like the hospital, the doctors, etc.
One aspect that is often neglected is the phase after the surgery where postoperative steps need to be taken to ensure full recovery of the patient. This aspect is often forgotten even when accounting for the expenses of the surgery itself.
Families and caregivers don't realize that arranging funds for the surgery alone, is not enough.
When you speak about postoperative care after a major cardiac surgical procedure, below are some costs that patients and caregivers would encounter:
Intensive care expenditure immediately after the surgery, which can only be determined by the improvement seen in the patient. ICU care can often go on for days after surgical procedures, which accelerates the cost drastically.
Medical professionals usually recommend routine lab tests in the post surgery phase to ensure no complications will take place
Medical equipment and aid for home, such as breathing aid, may have to be purchased or rented by caregivers.
Sometimes, unexpected surgical complications require separate treatment, which can be quite expensive.
Medications in case of heart patients are usually necessary to be taken for a lifetime, making it a vital long term expenditure.
Cardiac rehabilitation programs are conducted to help patients bring their life back to normal as quick and safely as possible. These include exercise, physical therapy.
Mental health of patients who've recently undergone critical surgery, is of utmost importance. Making them attend counselling sessions or support groups with other survivors may help in coping with emotional difficulties. Needless to say that this too would greatly increase postoperative financial expenses
Opt for a specialized cardiac care clinic or hospital for your's or a loved one's open heart surgery
No one wants to/ should have to settle for anything but the best quality treatment for high risk and invasive surgical procedures like open heart surgery - after all a loved one's life could depend on it.
For that reason, there are several cardiology centers and hospitals for heart treatment that specialize in curing heart diseases.
Why you should consider crowdfunding to overcome open heart surgery cost in India
In India, the cost of an open heart surgery in a private hospital is between INR 1.5 lakhs to INR 2.5 lakhs (will be significantly higher in case of a transplant). Most of the Indian population is not in a position to afford such expenses, and nor are they able to afford insurances or loans.
An effective crowdfunding campaign can help sufferers overcome so many financial constraints associated with treatment of heart disease in children. Through the donations collected, you may be in a position to cover doctor's fees, lab tests, treatments procedures, surgery, medications, and rehabilitative care.
It has always been thought that medical loans and insurance schemes will rescue a family from urgent medical expenses. However, we need to understand that this stands true only for a small part of the Indian population.
Most people cannot afford a medical insurance, nor are they able to get loans due to weak financial backgrounds. For such people, the world of crowdfunding is a blessing.
The process is quite simple - you start an online medical fundraising campaign on the Impact Guru website, write an appeal explaining your financial predicament, and share your campaign with friends, family, and even strangers, through Facebook, Whatsapp, Email, Twitter, and so on. Reach out to as many people as possible, from India and across the world.
We urge any in need of cardiac care to give heart crowdfunding a shot, and easily overcome open heart surgery costs. You'll be surprised to see how many well-wishers are out there, who're happy to come forward a make a donation towards a cause that matters.
We suggest you also read:
Commonly Googled Health Questions By Doctors
5 Lesser-Known Innovations That Are Improving Healthcare For The Common Man
If you have any feedback or comments related to this article, reach out to us at [email protected]