Medical Crowdfunding: How A Powerful Photo Story Can Get You Maximum Donations
By: Rukmini Chopra
Published On: November 03, 2018
We give you tips on how to write a powerful photo story for your medical fundraiser to get maximum donations. Read on!
If you come across a donation appeal, asking you to donate to save a cancer patient's life, what will make you shell the bucks? A long detailed story with no visuals or a crisp version carrying a powerful photo? If you picked the latter, you're on the right track!
It is a known fact that visuals attract more attention and help making any text appealing and relatable. If you have gone through our crowdfunding blogs, you must be familiar with this frequent tip that we give out- use attractive visuals with your stories. Why do we keep stressing on this point?
The simple answer is that visuals not only help the donors establish a direct connect with your cause, but they also help in authenticating it. For example, if your fundraiser is for a medical cause, it helps in having an image of the patient so that people get the sense of urgency that you wish to create.
Now the big question is, how does one create a photo story? It's a different deal to add visuals to your fundraiser story.
But creating a photo story on social media platforms, requires a certain set of skills. Don't worry, it's not rocket science. Anybody can do it, as long as the rules and tips are followed.
The importance of photo stories in crowdfunding
Crowdfunding in India is gaining popularity owing to its simplicity and efficiency. A lot of Indians are taking to this practice, especially with regards to medical causes.
Our crowdfunding platform has seen several remarkable success stories be it Riaa Kulkarni's campaign raising close to Rs. 50 lakhs for her brain tumor surgery to Ahanti Shahane getting a heart transplant in the nick of time.
While networking and promoting a campaign is the key to get quick donations, the presentation of the campaign too is of primary importance.
There's no point in promoting a drab story right? Only when you have all the key elements in place, can you convince the donor to hit the donate button.
Ria Kulkarni's campaign, Impact Guru.
Photo stories differ according to the cause you are raising funds for. The rules that you apply to create a photo story for a medical fundraiser are not the same to create one for a creative fundraiser.
Example, your photo, headline and story for a medical cause need to be more serious in nature as opposed to the casual and fun tone used for creative causes.
Since our focus here is on medical photo stories, let's have a look at the rules to follow:
The photo
Suppose you are raising funds for the treatment of a cancer patient. It is vital that you use the patient's photo, preferably one from the hospital. The reason why this should be done is:
It evokes instant empathy in your donors
It helps authenticate your story
It helps in donors relating to your story
Pro tip: Your story will be more powerful if you use a before and after photo of the patient. For example: The same technique was used in Riaa Kulkarni's campaign as seen below:
This campaign has been one of the most successful ones for Impact Guru. A before and after picture helps in the understanding the gravity of the situation as to how healthy the patient used to and what has become of him/her.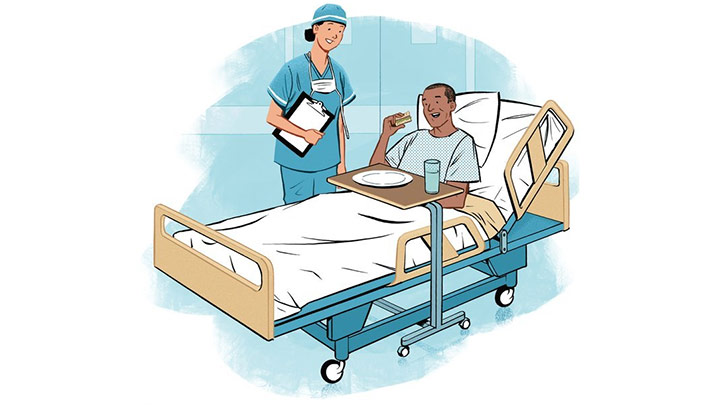 Alberta Health Services
Here are some dos and don't's to follow when uploading the photo on Facebook or Instagram:
Dos
Use a picture of the patient, surrounded by family members. This helps in the donors relating to the trouble that the patient's family is undergoing.
Use a clear picture. A pixilated picture always creates a bad impression.
Try and use a picture where the patient is directly looking into the camera. This helps in establishing a relatibility factor.
Don't's
Make sure the image used is not too graphic. Avoid using pictures with blood, injuries, severe symptoms etc. You don't want to repulse your donor.
Avoid over-editing your picture. Keep the picture as authentic as possible.
The headline
When writing the headline for the photo story, mention the following details:
1: The age of the patient
2: The disease that the patient is suffering from
3: The treatment needed
Here is an example:
My 1-Year-Old Son Needs Urgent Funds For His Cancer Surgery
Here are some dos and don't's that you should keep in mind:
123RF.com
Dos
Divulge limited details in your headline. Give donors a chance to skim through your story
Keep the headline crisp and to-the-point
Write the first letter of each word in capital letters. This makes the headline look neater
Always have a call-to-action in your headline such as help, support, etc. Let your donors know what you need from them.
Don't's
Since your appeal is for a medical cause and hence serious in nature, avoid using exclamation marks. It takes away from the gravity of the situation.
Don't be vague in your headline. For example, use headlines like 'We are in deep trouble and only you can help us'
This headline doesn't explain your situation in any way. Instead, use headlines like the one mentioned above, where you are specific about the patient's disease, and the treatment needed.
The story
While your fundraiser stories on crowdfunding platforms can be detailed, try and keep them short and crisp for social media.
Platforms like Facebook and Instagram are fast moving and users don't have too much time to sit and read long stories. Hence, give them the needed details by following this format:
1: Start your story by explaining the problem at present which includes the disease that your patient is suffering from and the treatment that is required.
2: Move on to the background of the patient- his/her profession, hobbies, etc. Then come to when the patient started suffering from the illness and how his/her life changed.
3: Come to the symptoms of the patient, the treatment and the time period under which it is needed.
4: Explain your own background and why you won't be able to pay for the funds.
5: Tell your donors the exact amount you need for the patient's treatment and end by a call-to-action such as 'please donate to your fundraiser' or 'your help can make my son go to school again.' Etc.
Video Blocks.
Here are some do's and don't's to keep in mind:
Dos
1: Be very specific about the patient's symptoms. Example: My son's body turns blue with pain, or my daughter suffers from 10 seizures daily. This helps in making the donor understand the gravity of the situation.
2: Always talk about the patient's past where he/she used to be happy and enjoy a hobby. Example: 'Rehaan would look forward to going to school every day but now his cancer has paralyzed him' or 'Kriti would love dancing and had dreams of becoming a famous dancer one day. But her heart disease has changed her life forever.' This helps in donors empathizing with the patient
3: Always end with telling the donors what can happen to the patient if they do or don't donate. Example: 'If you donate, Kriti can dance again,' or' 'If Dhruv doesn't get his surgery in time, he may never walk again.' This helps in creating a sense of urgency.
Don't's
1: Don't go into too many details about the patient's background in the beginning. Come straight to the point about the patient's suffering. This is vital so that the donor is immediately aware about the problem at hand.
2: Don't be vague. When mentioning anything, be specific be it about the symptoms, the patient's background, the name of the disease, the treatment needed etc. People believe in the authenticity of the story when it consists of adequate details.
3: Avoid using lengthy sentences.
We suggest you also read:
Why Are Visuals Important In Online Fundraising? Here's The Simple Answer
A Step-By-Step Guide To Writing A Powerful Donor Appeal For Your Medical Fundraiser
If you have any suggestions or feedback related to this article, reach out to us at [email protected]