Daan Utsav 2018: Impact Guru celebrates the joy of giving with #givingtuesday!
By: Aakanksha Bambulkar
Published On: October 06, 2018
What is this year's Daan Utsav all about? Here's everything you need to know about Imapct Guru is celebrating the joy of giving!
At Impact Guru, we celebrate the Joy of Giving every single day, doing what we do. So we are thrilled every year when Daan Utsav arrives! It also helps us share this joy with you all, which makes it even more special.
The significance of Daan Utsav

The Joy of Giving Week is observed from 2nd to 8th October to celebrate the spirit of generosity, charity and giving. The idea 'kuch bhi do, dil se do' summarizes the essence of this festival.
Daan Utsav is a beautiful concept in itself; it's all about taking out time from our busy schedules and going beyond the confines of our own lives, to touch someone else's. It teaches us how to celebrate the invaluable joy of giving.
Daan Utsav 2017 saw numerous Non-governmental and non-profitable organizations, corporates, charities, and volunteers come together to do their bit for the society in the name of philanthropy. There are many NGOs who come together to understand the deeper meaning of social giving.
So what does Joy Of Giving mean?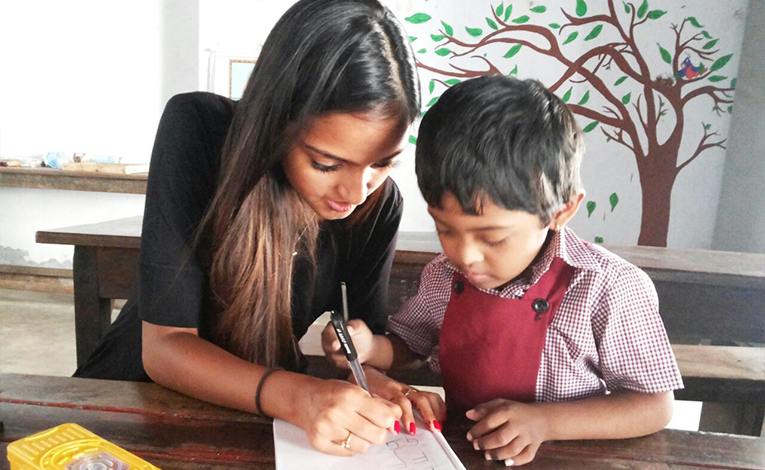 It could mean sharing your most prized possession with a friend or donating something to someone in exchange for a lovely smile! When you think about this on a deeper level, there is a certain power in detachment from materialistic things - the very thing the world has taught us to value in high prestige.
So in a consumerist society that weighs one's social worth according to one's ability to purchase & possess, be someone who shares or completely gives away one's possessions and understands the definite bliss an act of self-control can give.
It's not just parting away with materialistic things but also giving up every slight desire of controlling them. For instance, if we practice the give and take tradition at our workplace, not a single day will go where we won't get the opportunity to learn something new and pass on our knowledge. We grow as individuals by sharing ideas and the Daan Utsav festival is the best time for us to learn.
The events in Daan Utsav 2018
Daan Utsav is celebrated every year with a lot of magnificence and heart-touching events. Last year, we saw a lot of people embrace the festival across the country and it even went as remote in the rural areas.
Just like during Diwali, Christmas or Id, one can't keep count of the people who celebrated or the number of gifts or firecrackers that were bought, it is impossible to provide an accurate data set for Daan Utsav as well. However, here are some rough estimates for the 2017 celebrations:
5 million + people took part

200 + cities & towns participated

1,500 + events were organised

1,700 + schools & 450 + colleges participated

Over 1,000 + companies participated
This year's events include:
Buy a Brick and Build a School: Child Help Foundation has taken the initiative 'Brick by Brick School Program' which includes rebuilding the schools that were destroyed or poorly affected during the kerala flood.

Charity Housie 2018: GiveIndia and Letzchange bring to you the biggest fundraising challenge "Charity Housie 2018" which gives you a chance to raise funds by matching money.

Eureka Solar Lamp Drive
Aid India is conducting "Eureka Solar Lamp Drive". The drive aims to gather solar lamps and give it to the rural villages in Tamil Nadu.
Eureka Toy Joy Ride: Eureka Toy Joy Ride is conducted to collect toys which are gifted to the poor children of the tribal and backward villages of Tamil Nadu.

Wish Tree: This initiative collects wishes of poor and needy kids and maps them to people who are passionate about making their wishes come true.

#NekiKar: This initiative focuses on influencing people to do good deeds like helping a child, planting a tree, donating food to the underprivileged, donating clothes,etc.
Impact Guru's association with Daan Utsav
We at Impact Guru strive to spread the word about Daan Utsav and involve as many organisations as we can. Last year, we held a donation drive for Tarang where we collected stationary for unprivileged children at our office and got an amazing response.
We engage with a lot of NGOs and do what we can to aid their journeys. The response we got was tremendous! Over 60 NGOs collectively raised Rs. 20,00,000 which lead us to 3 winners. Here's the list!
1: Most donations - GREAT Foundation (Rs. 3,07,488)
GREAT Foundation crowdfunded with us for their venture, project Udaan, to raise funds and pull the underprivileged families out of poverty by ensuring quality education to their children.
You can check out their fundraiser here.
2: Most Indian donations - Making A Difference (Rs. 3,05,015)
Their venture was about village development and modernization, and for this, they worked towards building a skill development centre attached with a hostel facility which helped students with technical training, life skills and business skills.
You can check out their fundraiser here.
3: Most Foreign donations - Aasraa Trust ($200)
Aasraa chose to crowdfund for a project that aimed towards taking in street children that begged for a living and providing them with basic education by making them attend school.
NGOs participating in Daan Utsav this year
Daan Utsav is a festival where we see organisations and NGOs come together and share their passion towards the 'Joy Of Giving' week. They come together to make a difference for various causes. Some of the NGOs participating in Impact Guru's Daan Utsav initiative are:
1. Sponsor Meals For 30 Destitute Elders - By SERUDS
SERUDS has conducted surveys around kurnool and identified many homeless elderly who suffer from starvation and ill-health. The program aims to provide these people (aged 60 to 90) with nutritious midday meals throughout the year and improve their living conditions.
They have raised Rs. 33,944 so far.
You can donate to their fundraiser here
2. Transform Classrooms In Government Schools - By Makkala Jagriti
Through this fundraiser, they are focusing on transforming classrooms in Government schools by empowering teachers with easy to use audio-visual technology and by creating vibrant spaces of living.
The funds will be used towards the purchase of 4 projectors, tabs, speakers and casting devices for 1100 children.
They have raised Rs. 21,100 so far.
You can donate to their fundraiser here
3. Aaranyak: A Rural Alternative Learning Space - By Shaishav Child rights
"Aaranyak" is an ambitious project that mails towards providing the tribal children of Gujarat with an alternative learning space which allows them to take charge of their education.
This project ensures a free learning space entirely dictated by children where the adults will only act like facilitators. The initial phase targeted at reaching out to 200 children and there on, the Ashrams and Schools nearby.
They have raised Rs. 17,000 so far.
You can donate to their fundraiser here
4. BCT Residential High School - By Bhagavatula Charitable Trust
The fundraiser focuses on improving the three core thrust areas of academics, vocational skill training and social animation. They provide quality education and train the students to maintain information procured as mandated by the Education Department.
They also teach them about values and life skills and encourage the students towards employment through technical education. Aside from the, the school also educate s them about environmental cleanliness,personal hygiene and how to develop leadership qualities.
The funds will be utilized to provide education and skills to more rural students.
They have raised Rs. 20,000 so far.
You can donate to their fundraiser here
5. Help Thalassemia Children Get Blood - By Aarohi NGO
Aarohi NGO aims towards raising funds and supporting Thalassemia affected children by providing them with free blood throughout life. The NGO provides free blood transfusion to 180 to 200 children every month by promoting voluntary blood donation. They plan to increase this number, starting next year,to help a thousand children.
They have raised Rs. 10,150 so far.
You can donate to their fundraiser here
You can visit our page to view more fundraisers and donate here.
What role does crowdfunding play
The practice of crowdfunding plays an important role in making Daan Utsav a success in a big way where individuals and NGOs come together and raise funds for various causes. Impact Guru has started many initiatives to celebrate the ongoing Daan Utsav by giving everyone a chance to give back to the society.
We have started many fundraising initiatives to take Daan Utsav to newer heights and, #GivingTuesday is the highlight of this year.
We suggest you also read:
"Giving Was Finally Trending In India": Our #DaanUtsav Winners Speak About Their Crowdfunding Experience
If you have any suggestions or feedback related to the article, reach out to us at engage@impactguru.com