International Literacy Day: 5 Indians Ensuring Education To Every Kid
By: Rukmini Chopra
Published On: September 08, 2018
On International Literacy Day, We look at Indians who are doing their bit to impart education among children in India. Have a look!
We all, at some point or the other, wish we could turn back in time. When work gets too stressful, we find ourselves on nostalgia trips, reminiscing about our school days and wondering how life was so simple.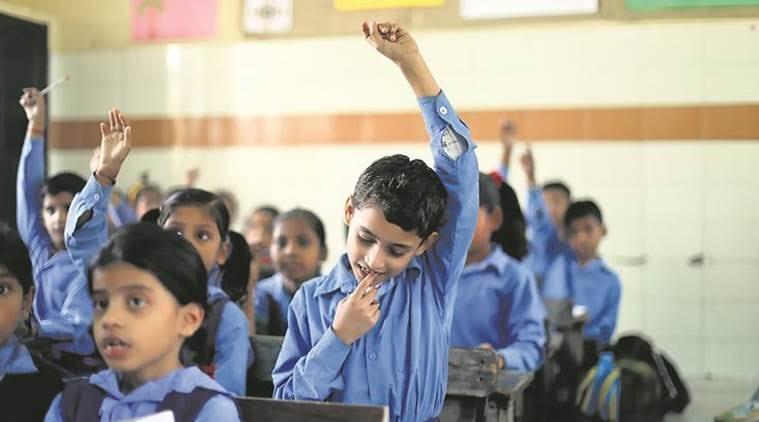 While we have those memories to make us feel better, there are thousands of children simply living with the dream of going to school. The rampant poverty in India topped with the rotten mentality that girls are meant to work in the kitchen and not receive education, are the culprits behind the high illiteracy rates among children in India.
This report by Tarang states that the literacy ratio of India is 65.38% with males comprising 75.85%, and females 54.16%. And more than 8.1 million children don't go to school!
There are however people and organizations working to change this pitiful situation. Not only do they ensure that Indian children receive adequate education, but are also working towards changing the backward mentality that prevails regarding the girl child receiving education.
Here's a look at individuals that are doing their bit to ensure that every child in India receives education:
Shaheen Mistri: Founder of Teach for India
Shaheen Mistri was born in Mumbai, but she has travelled the world and changed around 10 schools, because of her father's transferable job. Mistri's family however would keep bringing her back to Mumbai, to ensure she doesn't forget her roots. And on her trips, Mistri would notice the disparity and inequality that existed in India. That was the beginning of her journey into philanthropy.
When she had been studying at Tufts University in the US, and was back in Mumbai for a few days. One day, she was stuck in traffic at Nariman Point and was approached by street children who were begging for money.
"I remember looking at them and asking myself at that moment, why am I going back to the US? Won't anything I do in India be more valuable than going back home?", she said during her interview with LiveMint.
She decided to stay back in India and complete her education from St. Xavier's College, Mumbai. She then started Akansha in 1992, a foundation that imparted education among the underprivileged.
After its successful stint with educating 6,500 children through 21 centres in Mumbai and Pune, Mistri decided to go a step further and start Teach for India in 2008, as she not only wished to provide education to underprivileged kids but also have an efficient team of young members teaching these children.
TFI provides employment to capable college graduates, young professionals and trains them to teach at low-income schools for a period of two years. Post this, the TFI fellows can become a part of the management committee and continue their journey with TFI in the education sector.
The organization currently has 40,000 schools, 240 staff members, 1,200 fellows and 1,500 alumni.
If you want to be a fellow with TFI, click here.
Madhav Chavan: Founder of Pratham
Hailing from Mumbai, Chavan completed his education in the city and went on to teach chemistry at the University of Houston and Institute of Chemical Technology in Mumbai. Post that, Chavan worked in the National Literacy Mission in Mumbai's slums in 1989.
It was here that he discovered shocking illiteracy rates that dominate India. He went on to do literacy programs for Doordarshan and was invited to work with UNICEF for a project to teach slum children in Mumbai.
Chavan's work in the education field started gaining momentum and slowly, the man began to be recognized for the same.
Soon, Chavan was asked to head the project and as a result, he founded Pratham in 1994, an organization that provides quality English-medium education to the underprivileged.
At the time, Pratham was backed by the biggest names including Shobhaa De, Sunil Gavaskar etc. as the idea behind the organization was to involve people from the government, business fields, civil society etc.
Pratham is recognized as one of the biggest NGOs in India today. In the year 2015, the organization managed to reach out to 7 million children!
Today, Prathan has close to 46,000 volunteers, and works directly in 1,000 villages across 20 states. The NGO has branches in the USA, Germany, UK and Sweden.
If you wish to work with Pratham, click here.
Santanu Mishra: Founder of Smile Foundation
Misra has been involved in volunteerism since his school days. Hailing from Odisha, he completed his studies in the city in the commerce stream. He went on to pursue further studies at IIM Ahmedabad. He then went to Delhi to make a career.
But the thought of doing something in the social sector always nagged him. Luckily, he was surrounded by like-minded individuals who also believed that the way forward for Misra was to give back to society.
As a result, he founded Smile Foundation in 2002, which is a national development organization that works in the sector of healthcare, education, livelihood and women empowerment.
The organization has its base across 25 states in India and has close to 184 operational projects. In the field of education, Smile has 74 running projects across the country.
Not only is Misra involved in the social sector but has also worked in the filmmaking field. He is the producer of I Am Kalam, a film that encourages the practice of sending every child to school.
If you wish to volunteer with Smile Foundation, click here.
Jithin Nedumala: Founder of MAD (Make A Difference)
Jithin Nedumala along with Jithin John Verghese, Sujith Varkey, Santosh Warrior, started (MAD), Make A Difference in 2006. Nedumala was working with orphan children in his second year at college in 2006 when he founded the organization. The observations that Nedumala had about the rampant poverty in India and the lack of education among the underprivileged propelled him to start the NGO, along with his friends.
He is of the strong opinion that it is the youth of India that can take this country forward and bring about the much needed change we all feel the need of.
MAD's aim is to teach English under it 'The English Project' initiative to children hailing from street shelters, orphanages and poor backgrounds. Currently, the organization operates in 67 shelters across 23 cities in India. It has 1200 volunteers teaching nearly 4,000 children.
If you wish to volunteer with MAD, click here.
Sanjit Roy: Founder of Barefoot College
Sanjit Roy, popularly known as Sanjit "Bunker" Roy, studied at The Doon School and went on to complete his degree at St. Stephen's College, Delhi.
Roy claims that his "real" education started after degree college, when he dug open wells to make drinking water accessible, for five years as an unskilled labourer.
Roy had conducted a survey of water supplies in 100 drought prone areas and was shocked to see the abysmal results. In order to do his bit, Roy started the Barefoot College in 1972, along with his friend Meghraj, to solve the water crisis as well as provide education to the rural population.
The unique aspect of this college is that it runs completely on solar power! It trains the underprivileged to become teachers and professors, and also teaches them how to use sustainable options for a environment-friendly livelihood.
Roy has been featured in TIME's list of 100 most influential people of 2010. Barefoot College today operates in 1,300 villages across 80 countries!
If you wish to work with Barefoot College, click here.
We suggest you also read:
Education Crowdfunding In India: How You Can Fund Your Furture
A Sweater For Sonu How Aasraa Saved School Drop-Outs
If you wish to leave any feedback or comments, write to us at engage@impactguru.com